Best sniper rifles in COD Mobile : COD Mobile offers a wide variety of weapons in the game. Weapons ranging from long-range sniper rifles to short-range shotguns give players a plethora of choices.
Sniper rifles are the most damage-heavy weapons in the game. They are mostly used to vanquish enemies from extensive range using their attached scope, which covers extensive distances.
Also Read 5 best GTA Vice City mods for added realism
#1 – NA-45 – best sniper rifles in COD Mobile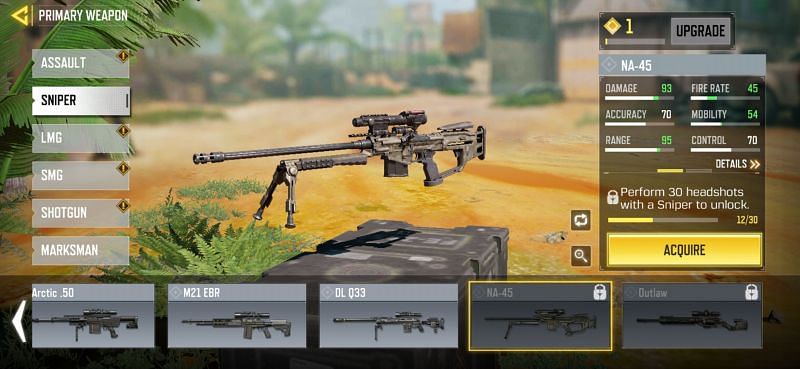 Damage: 93, Fire Rate: 45, Accuracy: 70, Mobility: 54, Range: 95, Control: 70
The NA-45 is the most powerful sniper rifle in COD Mobile and best sniper rifles in COD Mobile . It deals high damage of 93 and offers decent accuracy of 70. NA-45 also provides high range and much-needed control with 95 and 70 points in each field, respectively.
Considering it is a sniper rifle, the fire rate of 45 gives NA-45 an unfair advantage over other sniper rifles in the game.
---
#2 – Locus – best sniper rifles in COD Mobile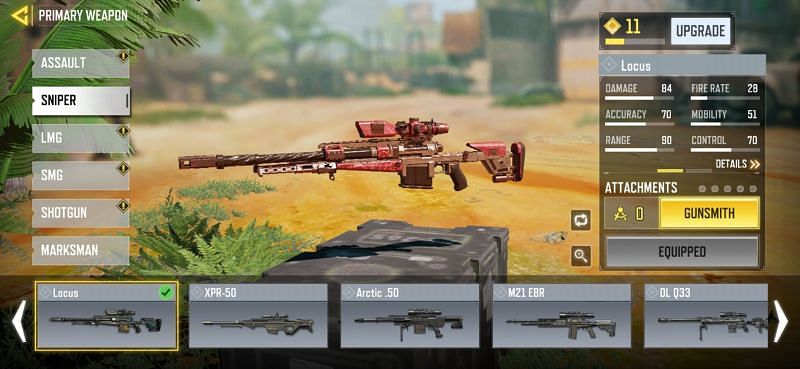 Damage: 84, Fire Rate: 28, Accuracy: 70, Mobility: 48, Range: 90, Controls: 70
The Locus offers outstanding balance to the player. It does high damage of 84 and offers decent accuracy of 70. Locus also provides a good amount of range to the player but falls short in the fire rate department compared to snipers like NA-45. However, it competes on par in the control department with 70 points to its name.
---
#3 Arctic .50 – best sniper rifles in COD Mobile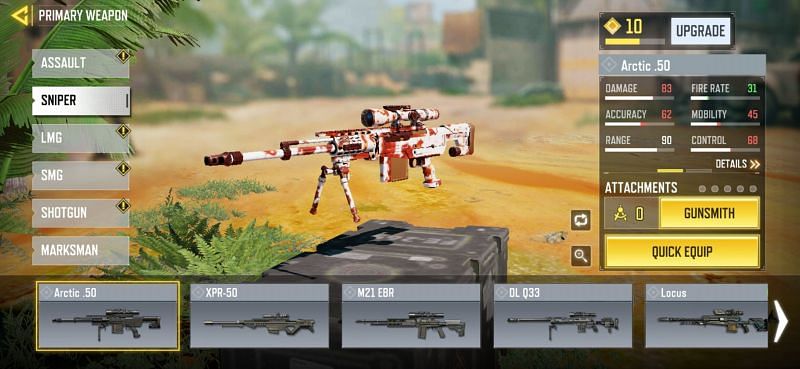 Damage: 83, Fire Rate: 31, Accuracy: 52, Mobility: 57, Range: 83, Controls: 60
The Arctic .50 offers decent damage of 83 and a respectable fire rate of 31. However, it is put in 3rd place as the sniper rifle lacks some crucial points in accuracy, picking up only 52 points.
Accuracy is one of the most important aspects of a sniper, as a snipers' missed shots allow the enemy to backfire. The range and control also lack some crucial points making Arctic .50 an average sniper rifle.
Read More 10 Best Minecraft Resource Packs that are Realistic Textures
Released on October 1, Call of Duty Mobile has become an instant hit within the community, generating over 20 million downloads and $2 million in revenue after just two days, according to Sensor Tower estimates.
Many have reacted very positively to how polished and complete the game was at launch, including additional modes such as a battle royale and ranked playlist, something that not even regular titles usually feature at release.
The multiplayer is, of course, the biggest of the bunch, and it has a plethora of different weapons that players can use, so many that making the right choice may not always be easy.