What is Lavasoft Web Companion?
Lavasoft Web Companion is a software that was developed by the company which is automatically installed on the computer and comes bundled with other applications. The company claims that this prevents the user from being affected by malware and spyware. This statement, however, is very doubtful coming from a company that has associated itself with a lot of controversies. Some of which we will be informing you about.
Controversies Surrounding Lavasoft:
Here are some of the controversies which surrounded Lavasoft over the years after its release.
Suspicious Owners
The company Lavasoft was acquired by Solaria Fund in January of 2011. However, it was later reported that the Fund was a front for entrepreneurs who were involved in selling "Free/Open–Source" software to users by tricking them with a promise of "Premium Support". They were also accused of selling the free version of Lavasoft's Security Program before eventually buying the company.
Also Read IDP Generic Virus Warning Fixed – Remove idp.generic
Suspicious Installation Patterns
If you are searching for the application on the web there is a high chance that the program was installed on your computer without your knowledge. The "Web Companion" program installs itself on your computer without your knowledge and it comes bundled with other software that you might have downloaded knowingly. The company, when confronted with this issue, used a technicality to get out of the question and said that the software installation was entirely legal and comes with no side effects.
It is claimed that the companion is a shield against spyware and malware but there isn't much that separates itself from malware. The program has no obvious benefit to the health of the computer and changes certain browser settings without the knowledge of the user.
Note: You can remove malware using Malwarebytes or any other antivirus software quite easily instead of trusting suspicious claims from a controversial company.
Also Read How to Avoid Viruses on a Computer
Suspicious Coding
In 2015, an independent Software research and development institute examined a new "Security" feature in the "Web Companion" software and concluded that it was based upon one of Komodia's Public SDKs. This is the same company that was responsible for the "Superfish" Security incident with Lenovo's devices. Basically, it made the devices vulnerable to Cyber Attacks and decreased the integrity of their security.
Should it be Disabled?
It is recommended that you disable the "Web Companion" software by Lavasoft as soon as possible. As explained above the software has a bad history and there are many black clouds surrounding its reputation. The Software is installed without your permission and changes your browser settings as well. It might be used to spy on your online activity or acquire your personal files/information.
Also Read Digital TV Tuner Device Registration Application
How to Disable Lavasoft's Web Companion?
Along with installing itself on the computer without the user's permission, the Web companion also doesn't offer any convenient method to uninstall the software. Therefore, in this step, we will be permanently deleting the Software using unconventional steps. For that:
Navigate to the following addressC:\Program Files (x86)Note: The address might differ if you are using a different installation directory for Windows.
Click on the "Lavasoft" folder and press "Shift" + "Delete" button simultaneously.

Clicking on Lavasoft and selecting "Shift" + "Del"
Click on "Yes" in the prompt.
Press "Windows" + "R" and type in "regedit" to open the registry editor.

Typing in "Regedit" and pressing "Enter"
Press "Ctrl" + "F" and type in "Web Companion".
Check the Keys, Values, and Data options.

Typing in "Web Companion" and checking the three options
Click on "OK" and the search will begin.
Delete all the entries related to the search by right-clicking on them and selecting "Delete".
Restart the computer and the program will have been removed from your computer completely.
How to uninstall Web companion from Windows
If you have already tried this security tool and found it useless, we recommend you to remove Lavasoft Web companion right away. You have two options — manual and automatic elimination for the removal of this app. However, as we have already pointed out, the app is not malicious and you should have no issues while trying to get rid of it manually.
Nevertheless, as BedyNet.ru researchers and other experts declare, the best way to protect the computer against potentially unwanted programs in the future is to have a reliable antivirus installed on the system. It will also uninstall all unnecessary applications that might have come to your system via software-bundles.
In this case, perform removal from Windows 10 and other versions by using the guidelines presented below. We highly recommend uninstalling all suspicious entries from the system to prevent other issues on your computer in the future. To prevent software bundles, don't forget to monitor the installation of every software you download. For that, you just need to opt for Custom/Advanced installation mode.
The questionable activity of the Web Companion PUP
We should also add that program's activity can also be quite annoying and cause trouble when trying to uninstall this so-called system protection tool. Once installed program claims to protect against the following threats:
Rogue websites;
Invasive ads;
Data tracking;
Phishing scams
However, users start receiving notifications about detected threats from the app right after the first scan is finished. Unfortunately, these alerts do not have an expiry date, so you can be flooded with never-ending messages each time you start using your computer. It has been significantly deteriorating users' browsing experience because it keeps popping up without a break.
Unfortunately, virus scan results and additional ads by Web companion are not necessarily trustworthy. Developers aim to generate revenue and try to trick people into believing that their computers are infected to continue using less than reliable services. In some cases, users might even be prompted to purchase the premium version or install additional security tools.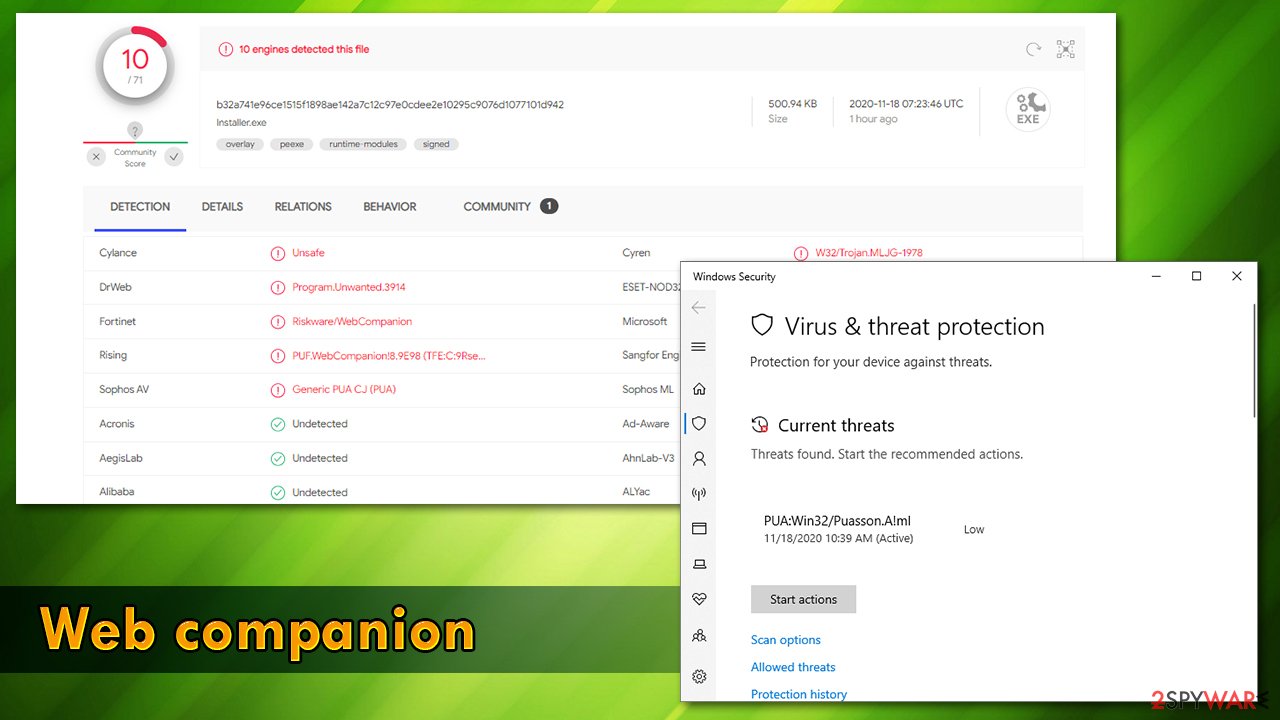 Program is detected by various security vendors
Possibly the biggest red flag is that, if you are already using a reliable security tool such as Malwarebytes, it would immediately flag Web companion virus as a PUP. There are quite a few other security tools that detect it under the following names:
Program.Unwanted.3914
PUA:Win32/Puasson.A!ml
A Variant Of MSIL/WebCompanion.C Potentially
Generic PUA CJ (PUA)
PUF.WebCompanion!8.9E98 (TFE:C:9RseB869T6O)
Riskware/WebCompanion
Therefore, we recommend you to get a trustworthy tool to maintain your computer's security. In addition, if you have been questioning yourself "should I remove Web companion from the system," our answer is "yes, you should." You can uninstall the app from Windows 7, Windows 10 or other Windows operating systems with the help of the step-by-step guide given below.
Manual removal doesn't take much time. However, run our recommended tools to make sure that there are no leftover files on the system. Keep in mind that such apps tend to modify the computer's registry and initiate additional modifications to start working with every system's startup. To revert these changes, we suggest using Reimage.
How to remove Adaware Web Companion (Uninstall Guide)
What is Adaware Web Companion?
Adaware Web Companion is a legitimate program that can protect your browser against unauthorized changes and detects and blocks malicious sites. While Adaware Web Companion is not malicious, this program is bundled alongside with adware or other potentially unwanted programs within the installer of different programs.
How did Adaware Web Companion get on my computer?
Adaware Web Companion is installed by the users, whether that is knowingly or not. Often, this type of program is offered through advertisements or bundled with other software, leaving the user puzzled where this software came from.
Unfortunately, some free downloads do not adequately disclose that other software will also be installed and you may find that you have installed Adaware Web Companion without your knowledge. You should always pay attention when installing software because often, a software installer includes optional installs. Be very careful what you agree to install.
Always opt for the custom installation and deselect anything that is not familiar, especially optional software that you never wanted to download and install in the first place. It goes without saying that you should not install software that you don't trust.
To remove the Adaware Web Companion and check your computer for malicious programs, please use the free malware removal guide below.
How to remove Adaware Web Companion (Virus Removal Guide)
This malware removal guide may appear overwhelming due to the number of steps and numerous programs that are being used. We have only written it this way to provide clear, detailed, and easy to understand instructions that anyone can use to remove malware for free.
Please perform all the steps in the correct order. If you have any questions or doubts at any point, stop and ask for our assistance.
---
STEP 1: Uninstall Adaware Web Companion from Windows
In this first step, we will check if the Adaware Web Companion program is installed on your computer. Sometimes browser hijackers or adware programs can have usable Uninstall entries that can be used to remove these programs.
Windows 10
Windows 8
Windows 7
Quit Adaware Web Companion.Before we can uninstall Adaware Web Companion from Windows we need to stop this program from running in the Windows background. To do this, right-click the Adaware Web Companion program's icon in the system tray (next to the clock), and choose "Quit".
Open the "Settings" menu.Click Start button on the taskbar, then select "Settings" (gear icon).


Click on "Apps", then on "Apps and Features".When the "Windows Settings" window opens, click on "Apps". By default, it should open "Apps and Features" but if it doesn't, select it from the list on the left.

Find the malicious program and uninstall it.The "Apps and Features" screen will be displayed with a list of all the programs installed on your computer. Scroll through the list until you find the Adaware Web Companion program, then click to highlight it, then click the "Uninstall" button.Look out for any suspicious program that could be behind all the drama – anything you don't remember downloading or that doesn't sound like a genuine program.If you cannot find any malicious programs on your computer, you can continue with the second step from this guide.

Follow the on-screen prompts to uninstall the program.In the next message box, confirm the uninstall process by clicking on Uninstall, then follow the prompts to uninstall the program.
Make sure to read all of the prompts carefully, because some malicious programs try to sneak things in hoping that you won't read closely.

---
STEP 2: Use Malwarebytes Free to remove browser hijackers and adware
Malwarebytes Free is one of the most popular and most used anti-malware software for Windows, and for good reasons. It is able to destroy many types of malware that other software tends to miss, without costing you absolutely nothing. When it comes to cleaning up an infected device, Malwarebytes has always been free and we recommend it as an essential tool in the fight against malware.
It is important to note that Malwarebytes Free will run alongside antivirus software without conflicts.
Download Malwarebytes Free.You can download Malwarebytes by clicking the link below.
(The above link will open a new page from where you can download Malwarebytes)
Double-click on the Malwarebytes setup file.When Malwarebytes has finished downloading, double-click on the MBSetup file to install Malwarebytes on your computer. In most cases, downloaded files are saved to the Downloads folder.


You may be presented with an User Account Control pop-up asking if you want to allow Malwarebytes to make changes to your device. If this happens, you should click "Yes" to continue with the Malwarebytes installation.


Follow the on-screen prompts to install Malwarebytes.When the Malwarebytes installation begins, you will see the Malwarebytes setup wizard which will guide you through the installation process. The Malwarebytes installer will first ask you on what type of computer are you installing this program, click either Personal Computer or Work Computer.


On the next screen, click "Install" to install Malwarebytes on your computer.


When your Malwarebytes installation completes, the program opens to the Welcome to Malwarebytes screen. Click the "Get started" button.
Select "Use Malwarebytes Free".After installing Malwarebytes, you'll be prompted to select between the Free and the Premium version. The Malwarebytes Premium edition includes preventative tools like real-time scanning and ransomware protection, however, we will use the Free version to clean up the computer.
Click on "Use Malwarebytes Free".


Click on "Scan".To scan your computer with Malwarebytes, click on the "Scan" button. Malwarebytes will automatically update the antivirus database and start scanning your computer for malware.


Wait for the Malwarebytes scan to complete.Malwarebytes will scan your computer for adware and other malicious programs. This process can take a few minutes, so we suggest you do something else and periodically check on the status of the scan to see when it is finished.


Click on "Quarantine".When the scan has completed, you will be presented with a screen showing the malware infections that Malwarebytes has detected. To remove the malicious programs that Malwarebytes has found, click on the "Quarantine" button.


Restart computer.Malwarebytes will now remove all the malicious files and registry keys that it has found. To complete the malware removal process, Malwarebytes may ask you to restart your computer.



When the malware removal process is complete, you can close Malwarebytes and continue with the rest of the instructions.
The above methods are verified and tested by our team at thewebbizzare and thus might be very helpful if you share this article with friends and family that might be having same issue.